Founder of Kitrain
During his extensive career in corporate leadership positions, Teodor has been heavily involved in recruiting and training teams and individuals from all over the world. He has personally witnessed the transforming power of effective training and coaching programs.
With a strong desire to help people, Teodor has chosen to use his work and life experience to create Ki Train, a concept that provides unique tools for growth and success using powerful martial arts like Tai Chi, Ba Gua, Aikido and Qigong as strong metaphors for understanding the connections between mind, energy and physical body.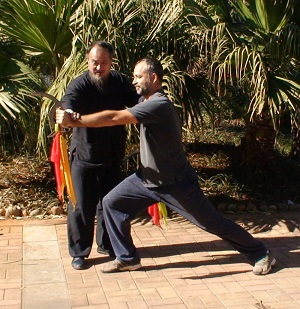 Huang Shifu and Teodor – training in Kunming China 2012.
With a deep understanding of andragogy and an amazing passion for teaching, Teodor can turn any ordinary subject into a memorable experience.
Teodor inspires us to dream and set life goals without limits, in line with his organization's motto:
" Everything you can imagine is real"
His overwhelming passion for working with kids makes him an inspiring teacher also when dealing with adults, as he strongly believes in the motto: "The highest form of learning is teaching others".
Although Teodor believes that his main quality is being a people's person, it worth mentioning his formal qualifications:
Bachelor degree in Economics
Hospitality training
Foundation of Leadership
Financial advanced training
International certified soft skills trainer
7 Habits of Highly effective people by Stephen Covey
Tai chi,  Ba Gua, Aikido & Qigong Certified Instructor 
Disciple of Grand Daoist Huang Shifu –  Kunming Kung fu school
Reiki Practitioner – certified by Japan Reiki Association
Hypnotherapist – completed 5 levels EKAA India.